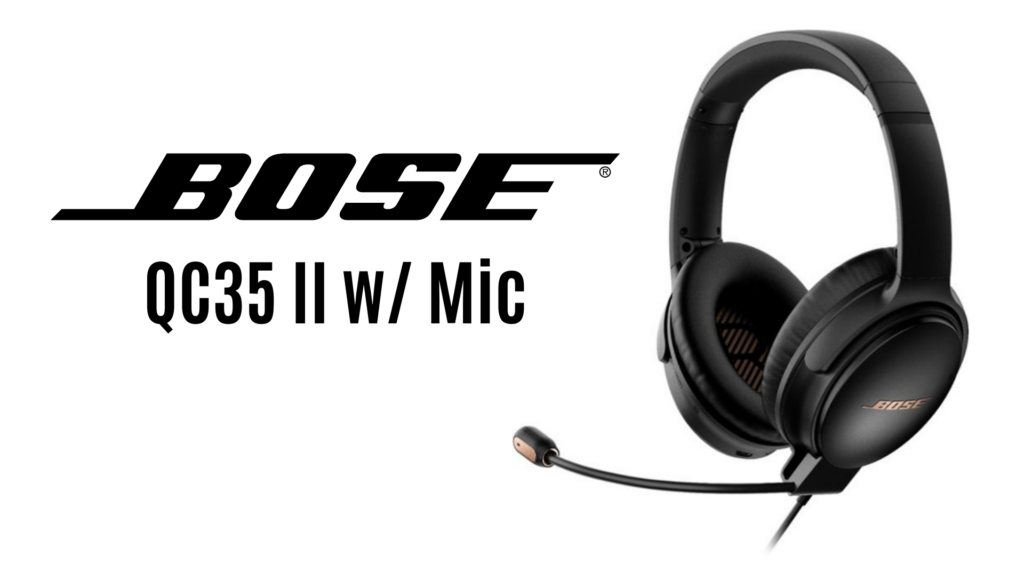 Traders have to stay focused throughout the trading and stay connected to other traders via call or chat. Of course, a trading office is a complete chaos where everyone is talking to their clients, traders and attending work calls. In such a scenario, getting disturbed by the annoying background noise is quite easy. Hence, it is important to choose one of the best noise cancelling headphones for this job.
If you are looking for one, then you can definitely choose the Bose QuietComfort 35 II Gaming Headset with a boom mic. To know more about its features and amazing benefits of this headphone, then read on.
About Bose QuietComfort 35 II Gaming Headset​
Bose, as you may know, is one of the most popular and reliable brands that predominantly sells some of the best audio equipment. The QuietComfort 35 II headphone is one of them and it is the best choice for traders who are trading stocks from office or working from home. With the annoying background noises all around, it can be quite distracting and irritating for the traders. And once you get distracted, you can miss a profitable trade just in the blink of an eye.
To ensure that you don't face such issues and problems, this headphone is the best. Put this headset on and you can hear only what matters to you. It comes with the best and the most advanced noise cancelling technology. This technology can help in clearing away any noisy distractions from the background delivering a clear and crisp audio. You can enjoy a complete virtual silence and hear the voice of the person on the other end of the call.
Features of Bose QuietComfort 35 II Gaming Headset​
Some of the best features of the Bose QuietComfort headset are:
2-in-1 gaming headset: This is a complete headset that you will need for your trading needs. This headphone is engineered in such a manner that it can provide you with a crisp clear voice as well as a microphone to talk to. Be it for work or for leisure, this headset can serve all purpose.
Detachable boom mic: In case you don't need the microphone, you can easily remove the mic from the headphone. This is a convenient feature that makes it easier for you to transform this headset to just a headphone when you are watching movies or listening to music.
Noise cancellation & rejection: With the world-class noise cancellation, this headset can clear away any noisy distractions that can disturb you while you are working or trading. Even with the noise rejection, the boom mic will reject any surrounding noise from your side so that the person on the other side of the call can hear you clearly.
Powerful Bluetooth: This Bose QuietComfort headset comes with a super powerful Bluetooth connectivity that has a range up to 10 meters i.e. 33 feet. The Bluetooth version used in this headphone is 4.2 so that you can enjoy talking while walking to and fro. You will not be bound with any wire.
Great battery backup: One of the best features of this headset by Bose is its great battery backup. You enjoy long conversations without the need of charging it every now and then. It can offer a backup up to 20 hours wireless and 40 hours when it is wired. The total charging time that this headphone can take varies from 2 to 2 and half hours.
Control switches: The best part of this headphone is that it comes with VPA buttons that can help you to connect with Alexa or Google Assistant. Also, you can completely control the noise cancellation along with the volume level. You can also use multifunctional keys for play or pause, skip or attending the phone calls.
Benefits of Bose QuietComfort 35 II Headphones
The features mentioned above are quite amazing and they are perfectly good reasons for buying this headset. But before you buy investing so much money, it may occur to you – why to buy? Well, to make it clearer to you, here are some of the great benefits that you can enjoy having this headphone:
No noise no disturbance in trading
The main purpose of having a noise cancelling headphones is that you can enjoy complete silence while working. When you are trading stocks, you have to be attentive to analyze, talk and take the action. A simple mistake can result into a huge loss. This headphone can offer you complete cancellation of the surrounding noise so that you can focus and be attentive without getting distracted.
The Bose QuietComfort 35 II headset is designed in such a way that it offers comfort to your ears. If you are wearing headphone for a long time, some of them can hurt your ears making it a bit uncomfortable. But with this pair of headphone by Bose, you can enjoy maximum comfort and keep it on for long hours.
When everything is under your control, it is way more convenient. Isn't it? If you want something just say it with the Bose QuietComfort 35 II headset. With just a single touch, you can access to the Google Assistant or Alexa immediately. Just say what you need and they will do the needful for you.
Whether you want to increase the volume or lower it, with the single touch buttons present on the headphones, you can do it smoothly. Also, you can manage and monitor the mic through 4 levels so that even when you are in a noisy environment, other people on the call can hear clear voice. This ensures that neither you nor the other people on the call have to shout while having a conversation.
Final Verdict
It is quite evident that the Bose QuietComfort 35 II noise cancelling headset is a great option to consider when you are looking for a similar quality headphone. It offers great features and amazing specs. All these features and specs make this headset highly beneficial for the people, especially the traders. You can do your trading seamlessly while being on a call without getting distracted at all by the loud background noise.
5 alternatives to choose: