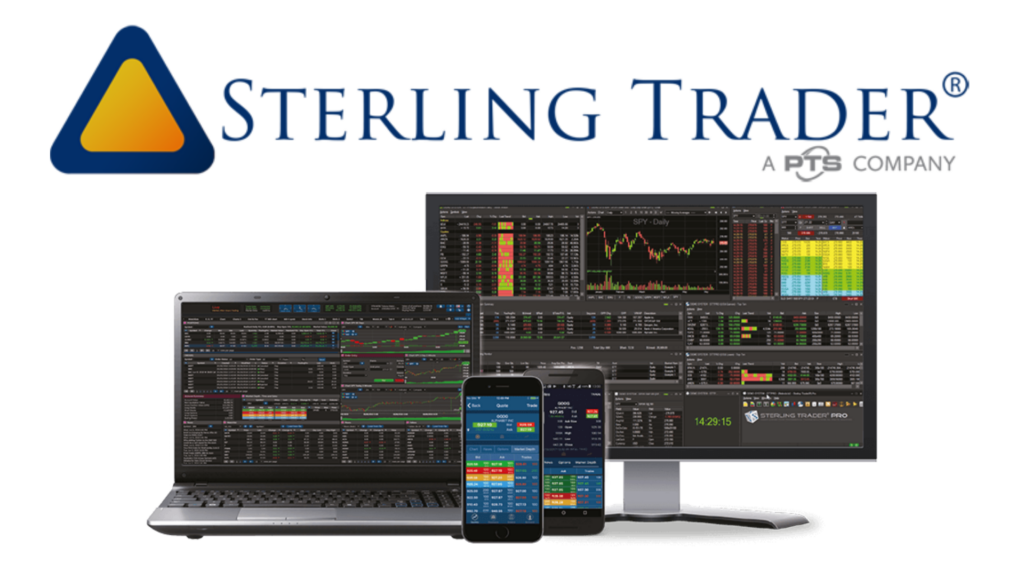 Sterling Trading Tech is a company which is known to market a number of trading platforms intended for individual traders as well as institutions. The tools of this company are quite advanced and come with lots of innovative features much to the benefit of the traders.
Brief overview
Sterling Trading Tech cannot be considered to be a brokerage firm. It is actually a company which provides the brokers with its trading tools who will be selling them to the customers. You need to take the help of a participating broker so as to use the software of this company.
Services offered
It is possible to use the software of Sterling for different purposes. Apart from order entry, Sterling offers tools for trade reporting, risk management, computing margin requirements, and so on.
The most well-known program of this company is Sterling Trader Pro which is a sophisticated desktop program offering lots of features required for daytrading and swing trading. The platform is actually a white-label application which implies that any broker purchasing a license from the company will be able to put its label on the application.
Sterling likewise comes with a mobile app as well as a browser platform. It will cover you in case you have an interest in risk analysis.
A user-friendly platform is provided by Sterling for the newbies which come with the bare essentials and a simple interface.
The company likewise offers an extensive suite of applications for professionals, institutional traders, and hedge funds. Lots of useful resources will be available right here ranging from compliance software to API solutions.
Platforms
Below, we have mentioned the different platforms provided by the company.
1. Sterling Trader Pro
This one is the most notable product of the company. It provides advanced options trading, stock trading, as well as futures trading tools in the package. Amongst the most significant highlights, the following deserve special mention:
• Level II quotes
• Professional-level charting
• Advanced order types
• Greek values
• Basket trading
• Access to foreign exchanges
• All Bovespa futures contracts
• Multi-leg option strategies
• Watch lists
• All CME futures contracts
• Research tools
Charting on Pro offers lots of advanced tools. It is possible to detach a chart window which can also be expanded to cover the entire screen. One can easily chart multiple stocks with several windows by making use of tabs.
Direct-access routing is offered by the order ticket of the application. One can use a discrete button for submitting a sell order. Level II data is going to appear at the order window's bottom.
It will be feasible to save custom layouts. Windows aren't linked in the default layout, although they can be linked as well.
Somewhat strangely, the platform's main menu is positioned in the layout's bottom right. Furthermore, it is not possible to expand the menu window fully in the default layout. Therefore, it is imperative to pull out the window after grabbing the right side for finding the menu icons. These consist of the following:
• Option chains
• Seeking Alpha
• Charting
• Options order entry
• RSS feeds
• Level II order entry
The platform's Elite version is obtainable for institutions. Several services which cannot be accessed on the regular platform are offered by it. These consist of algorithmic trading as well as access to several foreign markets such as Shanghai and Toronto.
2. Sterling Trader Web and Mobile
A mobile app or browser platform can be used by you in case you don't require the desktop system's complexity. It offers some tools which will be liked by the day traders. A number of market venues are provided by the order ticket.
Charting includes a number of graph styles such as table format. While there is a watchlist, the Level II quotes will be color-coded. It is feasible to trade options on the platform as well.
The mobile app of the company provides features which are not offered by other apps. These consist of option chains and Level II quotes. A chart will be available as well along with 30 technical studies. You will come across a watchlist, and news articles also come with their own section.
3. Sterling LST
The LST platform is offered by Sterling for trading groups focusing on options and stocks. This is actually the Lightspeed Trader platform intended for all those who have already traded at Lightspeed.
The application includes sophisticated tools which will be needed by options traders. It is also possible to personalize option chains with different settings.
A number of technical studies are offered by LST along with a couple of display styles plus several drawing tools. A lot of customization is offered by charts which includes a virtually unending number of colors.
Orders can be submitted to the exchanges in several ways with LST. The capability of transmitting multiple orders at the same time for innumerable ticket symbols is provided by the basket-trading window. Moreover, a single order will be sent by a regular ticket to one of the several venues.
4. Sterling VolTrader
The VolTrader application of the company offers lots of advanced tools. Among these, the following features deserve special mention:
• Option calculator
• Profit-loss charts
• Open interest
• Greek values
• Implied and historical volatility
Options graphs are considered to be an exclusive feature on VolTrader. It is possible to chart volatility and price.
VolTrader comes with an algorithmic order ticket for trading. Drop-down selections consist of urgency, start & end times, destination, algo, and settlement type.
Lots of search variables are provided by a security scanner right here. The order flow, losers and gainers of the day, earnings, and call/put ratio are some of them.
Support
Despite the fact that brokers handle customer support for the tools provided by the company, it nevertheless offers several resources. Extensive user guides are hosted by Sterling on the website for its applications. It is possible to find the topics easily thanks to the presence of a keyword search tool.
Release notes are also posted by the company for software upgrades on its site. Sterling Squawk is the monthly newsletter of the company.
Lastly, the company can boast of having a comprehensive YouTube channel. The videos will be demonstrating the methods of using the platforms of the company.
Final verdict
Lots of advanced software is offered by Sterling Trading Tech intended for the day traders as well as the swing traders. However, some notable drawbacks are the steep prices and the lack of direct brokerage service through the company. If you are a serious trader this is a great platform for you!