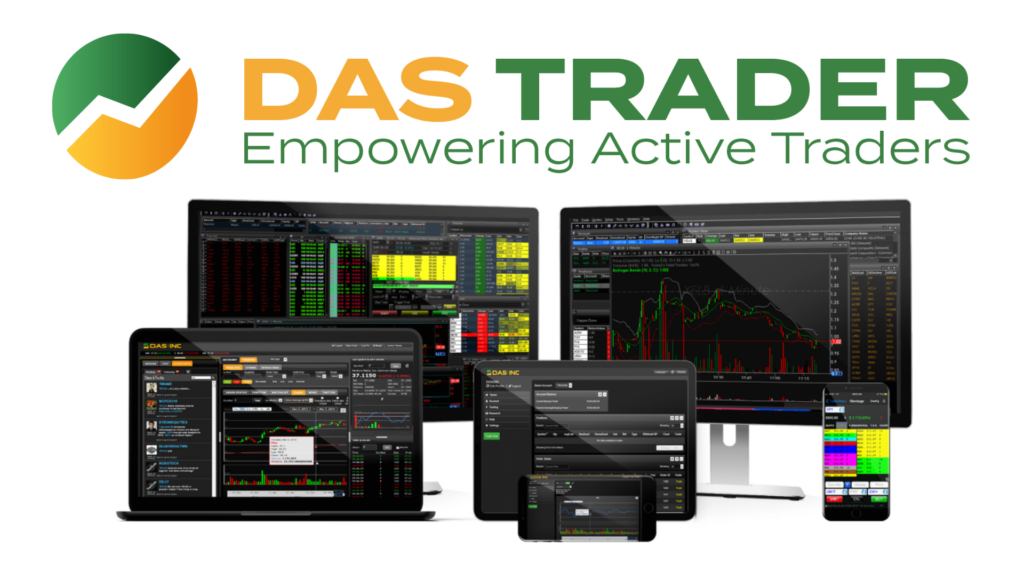 Are you looking for the best trading platform software? Are you interested in DAS Trader? You are here means you might have come across DAS Trader. You want to know more about this stock trading software before going ahead with your decision. We understand your concerns. We will try to cover all the possible aspects so that you can decide without any confusion. The following DAS Trader review is the outcome of extensive research. The objective is to help readers with impartial information.
A Brief Overview
DAS or Direct Access Software is a company designed to offer technical support to traders. The company headquarter is located in Las Vegas. From the name itself, you might have realized that it provides direct access to traders. It offers a wide range of services and products. Users can expect a high level of support when they need it the most. It can be the best for beginners since they will receive all the required help to create their space in their industries.
Offered Services & Products
You can get a list of software programs. The available programs can be used by institutional and retail clients. Some noteworthy programs are the flagship desktop program and DAS Trader Pro. In addition to these programs, there are a browser system and DAS ActiveWeb Trader.
DAS provides solutions to mobile users as well. The mobile app is compatible with Android and Apple devices. It has a mobile platform to offer required services to other devices. In brief, we can say that it has a solution for all types of users.
There is a DAS Trader DMAr routing program. It will use only one connection to offer access to many different locations at a time. If you are an institutional client, you can use the DAS Trader TRT program. The program will help you with compliance software and front and back-office management. Another offered platform is DAS Trader MTS. It is an order and risk management platform. With this software, users can manage many sub-accounts by using one master account.
From the above, it is evident that DAS Trader can come to the rescue of all those who want to maximize the benefits by using advanced technologies. You can use this trading software regardless of the device type.
Who Is Behind This Creative Innovation?
The DAS Trader is founded by Karen Gentile. The founder of the DAS Trader wanted to make it easy for current traders to manage the trading through desktop and mobile devices. It offers many advanced programs and tools to help traders to make more money from trading. They will have direct access to many professional tools. The DAS Trader can serve all types of traders including individual traders, institutions, companies, and brokers. As mentioned earlier, it has advanced tools for all types of traders. One of the most popular products of DAS Trader is the Pro platform.
Key Features of DAS Trader
DAS Trader is loaded with many advanced features. Most of its tools are appreciated by users. It offers everything that you need to do your trading comfortably and easily without any additional help. The DAS Trader can manage most of your trading jobs that include advanced order types, multi-account management, charting tools, account management in real-time, direct access order routing, advanced charting, multiple monitor support, and much more. Let's cover the details of some advanced features.
Charts: Users can expand the chart from the small window into full screens. It will ensure easy viewing. You will have less than ten drawing tools.
Level 2: The box can be effective for all types of traders since it will show ECN's and market makers with ask prices and bids. The quote size is also impressive. Some popular available venues are EDGX, NSDQ, ARCA, and BATS.
News: You can access the market news on a different window. Some articles will be available to answer all your queries related to your business. Also, some data can help you to understand the stock price.
Technical Indicators: Users can use more than forty technical studies that include Keltner Channels and Linear Regression. You need to understand the technical indicators to avoid any confusion.
Order Entry: There is a Level 3 quote box. It will attach the order entry ticket. Once you will click on a quote, it will fill the order tickets automatically. You can also adjust the figures whenever needed.
Scanners: DAS Trader provides scanners in the tools to enable traders to search for something related to the trade. You can find scanners in the top menu of tools. You just need to select the scanners to find some essential information that includes relative strength index, 52-week high and low, and price change. The options are limited but can be helpful for traders.
In addition to the above, traders can use alerts, watch lists, and options trading. There are different tools to support the different types of needs of traders.
Pricing
The pricing will vary depending on the brokerage firm. Let's break it into the following.
Capital Markets Elite Group: Starts at a $90 monthly fee
Interactive Brokers: The basic monthly package is $100
Cobra Trading: The monthly cost is $125
Speed Trader: The monthly fee is just $25
All the plans will have different features. Therefore, it is important to make a fair comparison before deciding on one.
Is DAS Trader Ideal for Day Trading?
The trading platform software is the best for equity traders. As it offers sub-millisecond order conformations, it can be ideal for day trading. Some of the essential features that include hot keys, headline news, multi-account management, and direct-access routing make it the best day trading software.
Pros
Many advanced programs
Around twenty market venues
Easy to use and customize
Desktop and mobile compatibility
YouTube icon
Availability of all the relevant data
Cons
Some plans are a bit expensive
Unattractive interface
Less than ten drawing tools
Not clear information to find tools
Wrapping Up
DAS Trader offers many advanced programs and tools to help all levels of traders. It can be perfect for beginners and intermediate traders. They can use advanced tools to understand the market condition and make real-time decisions to maximize the benefits. They can manage their business comfortably as well.