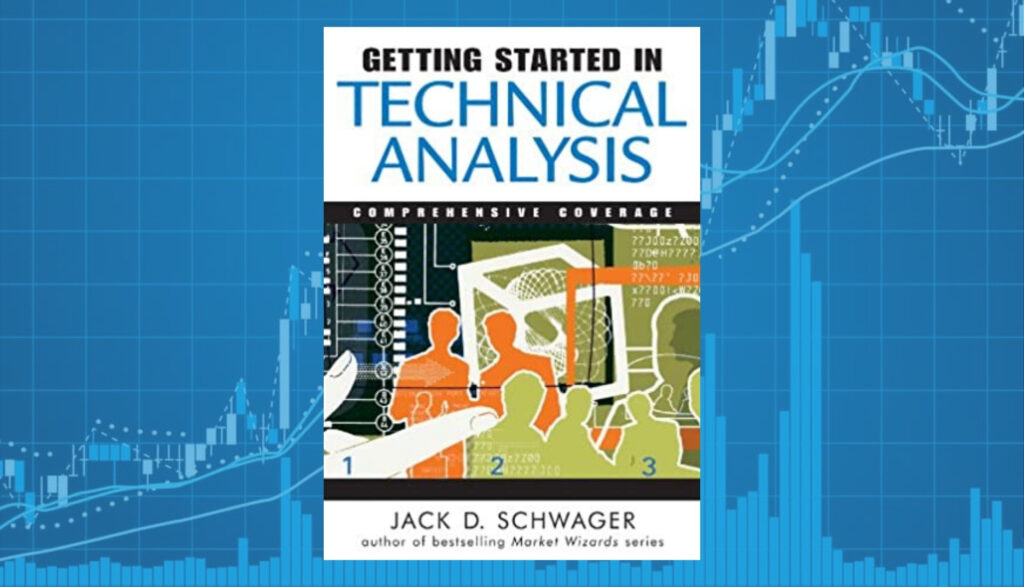 GETTING STARTED IN TECHNICAL ANALYSIS 1ST EDITION BOOK by Jack D. Schwager is an excellent trading discipline book in paperback and Kindle eBook options. Jack D. Schwager wrote this book, and it demystifies the world of technical analysis, which is used in business trading to analyze trades & investments and detect statistical trends such as changes in prices and volume.
This book explores how traders, particularly novices, can analyze and comprehend market behavior so that they can efficiently exploit stock trading opportunities. Jack Schwager discusses fundamental concepts such as chart patterns, entry and exit approaches, and trading ranges that can help beginning traders make a worth-while trade or investment.
Although the TA book was published in 1999, it still provides accurate, relevant information on technical indicators and practical ways of formulating trading systems that ensure you have successful financial trading.
This article will take a detailed look at this financial handbook, what it offers, and if it is worth a buy.
Jack Schwager is a highly decorated financial expert and author of several extensively renowned financial books. Mr. Schwager has gained popularity and worldwide recognition through his interviews with prominent financial merchants and hedge fund managers.
These interviews resulted in several best-selling books that have been published since the year (1989-2016). Jack has published more than ten critically acclaimed books, including a revised version of his first publication.
Jack has 22 years of experience as an executive director at Futures research, and he is currently is a co-founder at FundSeeder. This company strives to search the world and locate undiscovered talented individuals who have a passion for financial trading. Finally, he holds a BA and MA in economics that makes him a qualified, competent expert in business and stock trading.
WHAT YOU GET WHEN YOU BUY THE GETTING STARTED IN TECHNICAL ANALYSIS 1ST EDITION BOOK
When you buy this trading guidebook, you will get various examples and clearly illustrated explanations that cover all the critical aspects of the financial market that helps readers comprehend technical analysis. With this book, you can make precise informed decisions that will positively impact your trades & investments.
The physical book measures 6.1x 0.9 x 9.2 inches in terms of dimensions and 1.15 pounds, making it highly compact and portable. It is available only in English, has 352 pages, and was published by Wiley publications.
Besides learning Schwagers market trading secrets, you will also gain invaluable knowledge on expert market observation skills and detailed information on the following topics below.
●The various types of charts-bar, such as the candlestick.
●The best trading approach and philosophy and how to establish a foolproof trading routine.
●How to analyze trading systems and identify trends, counter-trends, and market patterns.
●Understanding the significance of failed signals, chart patterns, and how to find the top and bottom formations.
●Issues that can arise during charting and analyzing software price data and trading considerations such as time frames and software research.
WHAT YOU WILL LOVE ABOUT THIS BOOK
The Getting Started in Technical Analysis 1st Edition is a great book to read. Although many individuals have concerns about the viability and dependability of technical analysis, you will be pleased with how Schwager approaches this concept.
This book will help you gain an excellent introduction to technical analysis if you are new to stock trading. It will guide you through several illustrated examples for each discussed idea.
The author starts his book by carefully expressing the randomness of market prices that serves as the basis of his support for technical analysis. Afterward, he continues to provide unbiased explanations and relevant information throughout the rest of the book.
The book is well-detailed and uses uncomplicated language to explain the main trading strategies beginners can use in financial markets. Still, it can get a bit technical in the chart patterns section. If you can't understand these charts, you can still get useful information on reading market patterns and making informed predictions.
Schwager not only simplifies technical analysis for novice traders, but he also goes above and beyond to explain how it is a viable trading technique by approaching it from a trader's point of view. For instance, the author includes a brilliant section that teaches traders to read stock charts. This section shows readers how they can analyze the trading behavior of stockholders and analyze stock trends.
Readers get to learn how to discern when stockholders are abandoning a particular stock and when they are hoarding the stock in a bid to raise stock prices.
One of the best aspects about this TA book is that the author shares several of his trading data and why he chose that particular trade. As you read this trade chart info, you can decide whether you agree with what he did or disagree. After reading further, you can get to know what happened to that specific trade and see if you were right or not.
This chart analysis system helps you, the reader, to gain practical knowledge of technical analysis that is quite useful in comprehending the basic concepts discussed in the book. When you understand these concepts, it will be easier for you to make better trading decisions that increase the probability of making a profit.
Unlike other technical analysis books, Jack's book identifies potential shortcomings of the several trade indicators and clearly shows his readers what issues can arise. He further identifies the benefits and drawbacks of the various indicators and strategies you can use in each case.
WHAT YOU MAY NOT LIKE ABOUT THIS BOOK
If you only buy the digital copy, you may not see the charts in the kindle eBook version. It would be best if you purchased the paperback version instead of the digital version.
Additionally, the book was printed back in 1999, meaning it's quite old, and you may not be entirely pleased with the book's quality if you purchase a used one.
VERDICT
The Getting Started in Technical Analysis 1st Edition Book is an excellent guide into the world of technical analysis. If you are a novice to stock trading, then this book is worth a buy. It will assist you in identifying trading & investment opportunities and teach you how to analyze and predict market trends.
Get Your Copy of Jack D. Schwager's "Getting Started in Technical Analysis 1st Edition"