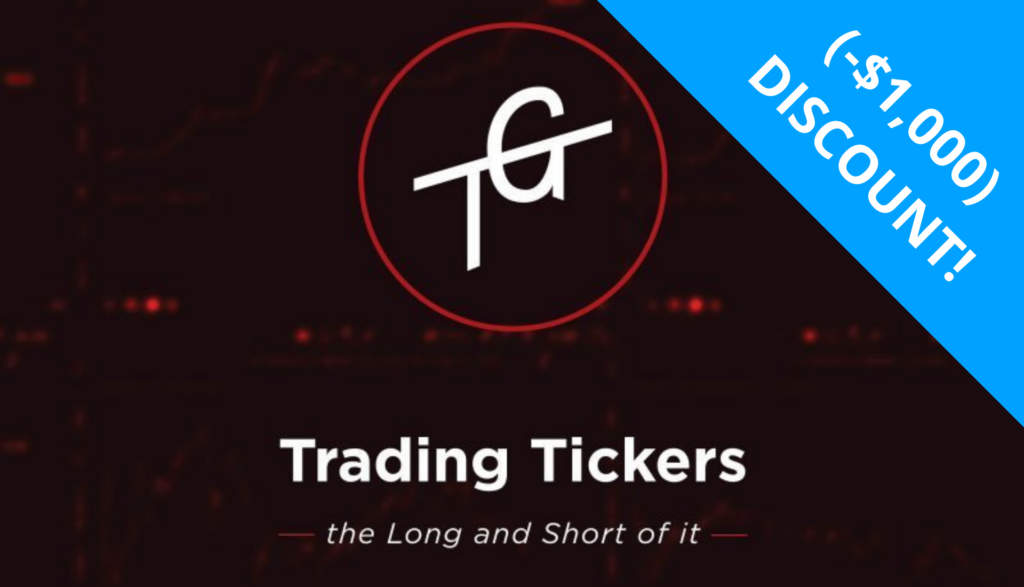 **UPDATE 2021**
Trading Tickers 2 Just Released! Get (-$1,000) Launch Discount Here.
Read Review of Tim Grittani's New Trading Tickers 2 Course.
---
The Trading Tickers course by Tim Grittani has earned a lot of hype in the day trading online course world.  It's an extremely in depth course that provides everything you need to know about stock trading, longing And especially shorting.  Created by a proven multi-millionaire trader, it is easily one of the most helpful and invaluable courses available.   Most unique about Trading Tickers is you can learn what Tim has done to make himself consistently profitable, both from his trading successes And failures – most courses only talk about their biggest successes.. 
But, is it worth investing your time and money?  Will Trading Tickers make you a better trader?   Is Tim Grittani a legit or a fake guru (furu) trader?  Keep reading to find out and decide whether this course is right for you! 
Hate reading free, in depth, and extremely helpful day trading course reviews??  
No problem, here's a (-$1,000) discount off Tim Grittani's Trading Tickers Course Here.
About Tim Grittani aka @Kroyrunner
If you're familiar with the day trading world especially the penny stock niche, chances are you've already heard about Tim Grittani.  He's definitely a well-known face of the trading world because of  his very inspiring success story ($$$). 
Tim's a solo day trader who followed his dream and succeeded, far exceeding even his original  expectations.  The reason behind his success and most important theme throughout the course is his hard & smart work ethic.  That's how he managed to turn his $1,500 starter account into consistent profits totaling over $12+ million within just several years. 
But this didn't happen overnight, he had his own struggles and bad experiences.  When he was learning how to trade, he encountered major losses – blowing up his first starter account (losing all his money).  But that didn't stop him from getting back up and forging ahead. 
Today, he is one of the most well known, respected yet down to earth multimillionaire traders.  He never rants about his greatness and his success story – especially not in obnoxious flashy instagram posts like a lot of Far less successful traders do…  Instead, he just takes what the stock market offers him each and every day, even if that means a mid day nap or a few weeks off.  As you know, day trading, especially shorting is risky – but Tim has found a way to ace it.   His goal with the Trading Tickers course is to teach you what he's learned, how he continues to improve, and inspire you to put in the same level of work and dedication into your own trading careers.
What Is Trading Tickers?
Trading Tickers is an online course that offers a total of 28 hours of useful trading knowledge including trading basics, techniques, examples of live trading strategies and several hours of useful recorded webinars where Tim answered users' day trading questions.  The live trade examples are provided in the course to give the users a deep insight into how the real stock tickers move as well as how decisions and actions are taken on them in the moment.  Basically, Grittani shows you what he tries to do to improve his profitability, trade efficiently and the lessons he's learned over the years from his successes but most importantly from his failures (losses).
Trading Tickers will help you learn about his trading rules and parameters from watching his screen, pretty much like sitting next to him live trading. 
While it will not make you a billionaire overnight, it will help you in going in the right direction with your own trading.  Tim will teach you how he avoids common trading mistakes and make the most out of every opportunity he sees each day. 
Trading Tickers consists of 8 lessons and a total of 12 chapters.  Each chapter is well-thought, very thorough and easy to understand.  In fact, the whole course is designed so professionally that it offers great knowledge for both beginners and experienced traders.  You'll get to learn from 35 live trading examples which you can use further as a guide for all of your future trades. 
The whole learning experience from Trading Tickers seems like you're sitting next to Tim himself and learning from his experiences.  You'll be able to develop the mentality of a trader.  You'll understand where his confidence comes from in his strategies that helps him think and trade proficiently through each opportunity.
Trading Tickers Syllabus – What This Course Consists Of? 
The 28-hour long course is focused on a single thing – How to trade! 
This is a straightforward course that doesn't deviate from the topic and offers to the point information without any useless content.  The Trading Tickers course is divided into 8 sections with 12 chapters full of pure trading basics. 
Here is what each section is made of:
Disc 1 – The Fundamentals, Must watch for Beginners
The 1st disc of Trading Tickers contains all the introductory part of the course, necessary for beginners.  It begins with an introduction of Tim Grittani's success story and the events that led him to become a successful trader and end with the basics of day trading and the stock market. 
Instead of typical bookish definitions found in most online courses, Trading Tickers offers more real world and understandable knowledge.  The Disc 1 covers topics like rules and regulations for trading and others that Grittani believes are important to know before starting to trade each day in the stock market. 
Although most of the information in this part is basic, this doesn't mean Tim has just included it for the heck of it and is less important.  In reality, he has explained each topic in detail and for important reasons to make sure you have the foundations understood before moving forward. 
This is a small segment with a fundamental nature – even the experienced traders will be able to grab some of the unsaid rules and basic information on trading and markets. 
Disc 2 And 3 – Tim Grittani's Trading Set-Ups & Proven Strategies
Next, the 2nd and 3rd disc of Trading Tickers offer the most valuable information of the course.  In these discs, Tim has discussed the most effective strategies and patterns he uses while trading.  He opens up about the rules in a very clear and concise manner and then begins to show the learners the past trades that use those terms, while also adding a valuable narration over the examples for explaining the viewers how his mind works during the trading process.
Tim doesn't shy away from putting losing trades and major lessons from those in this course.  Most traders usually love only sharing their huge wins and success but hide the bad experiences they've gone through.  That's what makes Tim Grittani so well respected and his course above the rest – he has clearly discussed his bad experiences and used his mistakes for teaching his students the most important lessons.  At one point of his life, he has lost a huge amount of money that any normal individual wouldn't have overcome if that would happen to them, but Tim gracefully accepted his defeats and got up stronger and more determined.  He didn't allow his bad experiences stop him from becoming what he is today. 
It's very easy to show your wins, but to show your biggest losing trades requires guts and a very strong mindset which Tim has.  Building a strong and technical mindset is another thing you'll learn from this course. 
Apart from this, this segment of the course offers a few points that you should be concerned about.  Tim teaches eight trading patterns, but note that only 3 are long set-ups, the rest are his bread and butter – short selling strategies.  Short selling can be competitive – you have to be active in borrowing shares from your broker, all of which is taught in the course.  
While some people complain that strategies in "Trading Tickers" are outdated – what they are not realizing is that the strategies apply to the major exchanges – not just OTC markets.  So even though the OTC market is not thriving, there are more than enough opportunities in the major exchanges; Nasdaq, NYSE, AMEX etc. for traders to keep themselves very busy with the strategies taught by Tim in this course.
Tim Grittani has included everything that you need to know about how he trades his different strategies.  It's just a matter of time to go through the course and dedication to your own trading after that.  
The best part is, the setups are taught in the best possible way by Tim.  The live examples are supremely detailed and thorough that anyone can understand them.  Plus luckily you will have the course as a resource when you undoubtedly want to look back to it after your live market hours. 
Discs 4 to 8 – Live Trading Examples
This portion of course is where you learn practically everything and a lot more.  Before in 2nd and 3rd disc, you'll be mostly trained through case studies and theory-based content narrated by Tim.  However, in these discs, you'll see him trading before your eyes in real-time. 
While this section is not as theoretical as the previous sections, you'll be able to learn a lot of valuable things about trading from this live setting.  How much would you pay to sit next to a self made multimillionaire trader and watch them for hours on end and teach you everything they're thinking & doing?..
He always keeps explaining as to why he is taking certain actions and making a particular decision before, during and after a trade.  You'll never be left wondering as to what is happening in the live examples.   This section alone is worth double the price of the course!
Trading Tickers – What Is The Quality of Course?
Now, coming to the quality of Trading Tickers, it is truly amazing & extremely effective at teaching complicated concepts in understandable chunks.  Each and every bit of information provided in this course is detailed and well-thought out.
From the beginning to the end, the course offers a consistent high-quality learning experience.  It's truly worth the price and a Lot more – just imagine being able to sit in the film room with Tom Brady while he is going over and dissecting each and every play he made from his last Super Bowl win?  Every successful decision and even all the bone headed dumb failures that made him looking like a baby giraffe trying to walk and throw a football for the first time.  How much More would you learn about football than just from watching it on TV like a normal fan?  
That is what it's like going through the Trading Tickers course with a mentor like Tim Grittani compared to watching charts all day you don't understand during market hours on your own..   With the course you gain access to a wealth of knowledge from a proven pro, make the most of it..  Or end up like most traders, losing money and quitting. (not what Tom Brady would do..)
Who Should Get Trading Tickers? 
The Trading Tickers course by Tim Grittani is great for new and intermediate traders as well as experienced traders.  It is an ideal course for someone who wants to get into the world of day trading for themselves.  It teaches the beginners what it took for Tim to achieve success in day trading while also providing a deep insight into the pros and cons of this profession.  It's also extremely helpful for intermediate and even experienced traders because you will add significantly to their strategy toolbox by showing them several short selling strategies. 
Is Trading Tickers Worth Investing In?
It depends solely on your aims and expectations.  If you're looking for a course that offers you the ways to get rich overnight by day trading lottery pick tickers and copycat trade alerts, then you'll be disappointed.  This course is very detailed and for people who are serious about taking their first step into the markets or who have been trading for years and want to improve their techniques and add strategies they didn't think of before to their trading arsenal. 
Trading Tickers – Pros And Cons 
Pros
Trading Tickers is perfect for both the newcomers and experienced traders. 
It is a complete trading guide that will help newbies start on your trading journey.
The 35 live trade examples alone are totally worth the price you pay for the course. They offer valuable practical trading experience. 
The course is professionally designed and offers high-quality learning. 
Easy to understand; the narration offered by Tim Grittani is exceptional.
Cons
It will Not make you rich overnight 🙁
You'll require real funds to begin trading, or you can use paper money accounts.
You'll require real time & dedication to your trading career, like Tim Grittani has so well shown examples of what it has taken him – as well as how hard he Still works to improve his craft.
The Final Verdict
"Trading Tickers" is one of the best trading courses that's available anywhere right now.  The approach Tim Grittani takes to teaching throughout the course is much better and easily understandable when compared to almost all others.  It offers pure trading knowledge without deviating from the main topic.  We strongly recommend this day trading course to those who are planning to enter the world of trading and want to learn from one of the most consistently profitable proven traders.   We can't guarantee you any results but the course will teach you all Tim Grittani knows and inspire you to take the same level of dedication in your trading that he does with his.