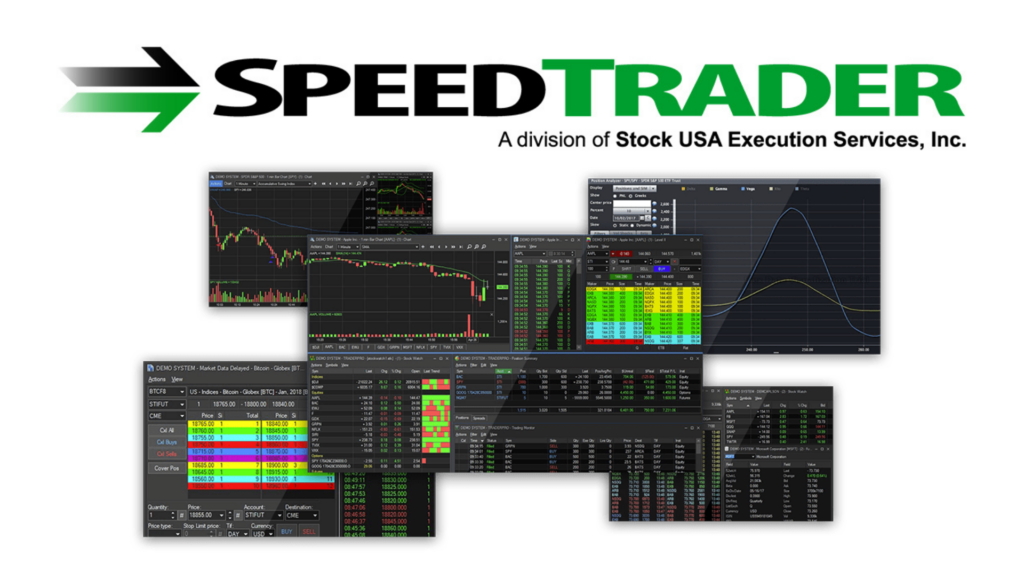 If you are looking for a brokerage platform that has been designed by keeping active traders in mind then SpeedTrader can be the best option for you. It is one of the powerful trading platforms that are known for their exceptional customer services and use the leading technologies of the market. This platform can be accessed directly for day trading as it offers various standalone and mobile platforms to be accessed online. One can use Das Trader software to access its mobile platform. It has been designed for all types of day traders including the traders in options trading and stock trading along with advanced day traders etc. The information provided in this write-up can help you to know about this brokerage platform.
About SpeedTrader
SpeedTrader is a brokerage platform based out of New York and part of the Stock Execution Services, INC. of the USA. It has been designed particularly for the traders who use flexible commission structures, advanced tools, extensive shortlists, and routing options for improving their returns. They offer clearing services through its SpeedTrader PRO services by using ETC as well as Cor Clearing.
This brokerage platform helps active advanced day traders in their advanced and high-level trading activities. It allows them to avoid the fee of software and inactivity fee paid quarterly to this platform. Advanced traders can also use the options of the ECN order route to improve their returns.
The traders interested in options trading and stock trading can also take advantage of all the features of this online brokerage platform.
Commissions and fees of this online broker
SpeedTrader charges commission on a per-trade as well as a per-share basis. The per-trade fee of this platform starts from $4.49 per share whereas its per-share commission starts from $0.0044 per share. Its pricing for options trading starts from $0.40 per contract. But to avail of these rates, one must have a balance of $25,000 in his SpeedTrader account. For clients with less than a $25,000 balance will have to pay a commission of $6.95 per equity trading. For trading more than $400 this platform also offers a discount to its clients.
Clients from the US and overseas can open an account with this platform by depositing a minimum amount of $30,000. You will have to $30 per month if you do not trade actively or an overseas trader. This platform offers options and margin accounts only and does not allow cash accounts. If your account pays a fixed monthly fee then the fee for software usage will be waived off. But you will have to pay a monthly fee of $25 for this platform, $40 for Pro Level 1, and $104 for Pro Level 2 if your account does not generate a minimum commission.
Trading tools offered by SpeedTrader
The mobile and desktop trading platforms offered by SpeedTrader include powerful trading software, Pro Level 2. This software allows you to directly access advanced orders and order routing facilities so that traders can directly trade a financial asset with market specialists on the exchange's floor to ensure immediate execution of the order.
SpeedTrader PRO also offers real-time stock charting with multiple types of indicators and charts to support point and click trading as well as multiple screens. It also offers hotkey support to allow you to use more than 100 options of hotkeys for faster entries of orders. To focus on an ideal opportunity for trading, it also allows you to create a custom stock scanner so that many lists of stocks can be organized to support this trading strategy. This software also offers a facility to manage multiple accounts so that this platform can be used to manage all trading accounts.
This trading platform also offers SpeedTrader Elite as an ideal platform for traders interested in options, futures, and equity trading. It will help them in analyzing market actions in real-time, and management of the portfolio, etc.
The web-based platform of this online broker is known as SpeedTrader ActiveWeb. It is an HTML5 and browser-based trading platform with several features. It also allows traders to trade on the go through its mobile trading platform.
Features of SpeedTrader
Some of the main features of SpeedTrader include:
Low-Cost Trades: This platform offers per-share and per-trade commission plans at very competitive rates.
Speedy Executions: This platform offers direct access to it through more than 25 routes.
Integrated Locates: It offers 4 types of third-party locate services so that you can find the best shortlists for you.
Powerful Platforms: This platform allows you to use any of your devices for using this platform for advanced trading.
Safe trading: This brokerage platform is a member of the Corporation for the Protection of Securities Investor which allows it to meet the claims of its customers for up to $500,000 including the cash claim of up to $250,000. The clearinghouse of this platform also offers additional coverage of accounts up to $2.45 million including cash coverage of up to $900,000. It also protects the accounts of its clients for up to $25 million including a cash balance of $1 million per client.
Customer Support: this platform also provides customer support through email, phone, live chat, and fax. You can contact them from Monday to Friday from 8 am to 5 pm ET.
Pros and cons of SpeedTrader
Pros
A platform for fast and seamless day trading
Various types of routes for ECN order including INET, ARCA, EDGX, and BATS, etc.
Efficient and fast execution for routing of direct access orders
For an account balance of over $25,000 reasonably low trading fee
Customization of hotkeys
Cons
Only iOS devices can use this platform for mobile trading
Limited choice of assets
For some services like assignment or option exercise and trades backed by broker its fees are high
Final thought
So, if you are a professional or an active solo trader and are looking for a broker with direct access and which can help in lots of trading activities, routing options, and comprehensive executions then SpeedTrader is a great option for you. However, this broker may not for you if you trade infrequently or a beginner trader.